Wristband Bros knows that your wristband project is important to you. You're not messing around, and neither are we. If your order contains any of the issues outlined below, it will be eligible for replacements or a refund.
Our goal? To ensure you're happy with your wristbands and, if not, that you're happy with how the issues are corrected on our end. Because let's face it – no one's perfect. But we try our hardest to be.
Print issues that qualify for replacement / refund:
Your design does not match the online proof. Your order will be printed directly from a digital art file. If the print does not match the digital art file (ie, misspellings, incorrect artwork, poor ink quality, incorrect colors etc), Wristband Bros will replace or refund the order.
Material of product less than industry standard. If the quality of the materials used is not within industry standards (ie, product snaps without significant pulling force, edges are poorly cut, etc), Wristband Bros will replace the product or refund the order.
If your wristband has any of these rare production issues and you'd like them replaced/refunded, please contact us today. You will be asked to submit a photo of the issue. We will review it immediately and replace/refund any orders showing these issues.
Shipment issues that qualify for a full or partial refund:
Your order does not arrive by the specified date guaranteed by Wristband Bros. For rush orders, the cost of the rush shipment portion of your order will be refunded if the items are not delivered by the date promised. Orders will only be eligible for a full refund (including product cost) if an Important Date is added to the order at checkout. All orders with Important Dates selected are fully guaranteed for delivery by the promised date or your money back.
Here is a view of the important date calendar on the first page of checkout: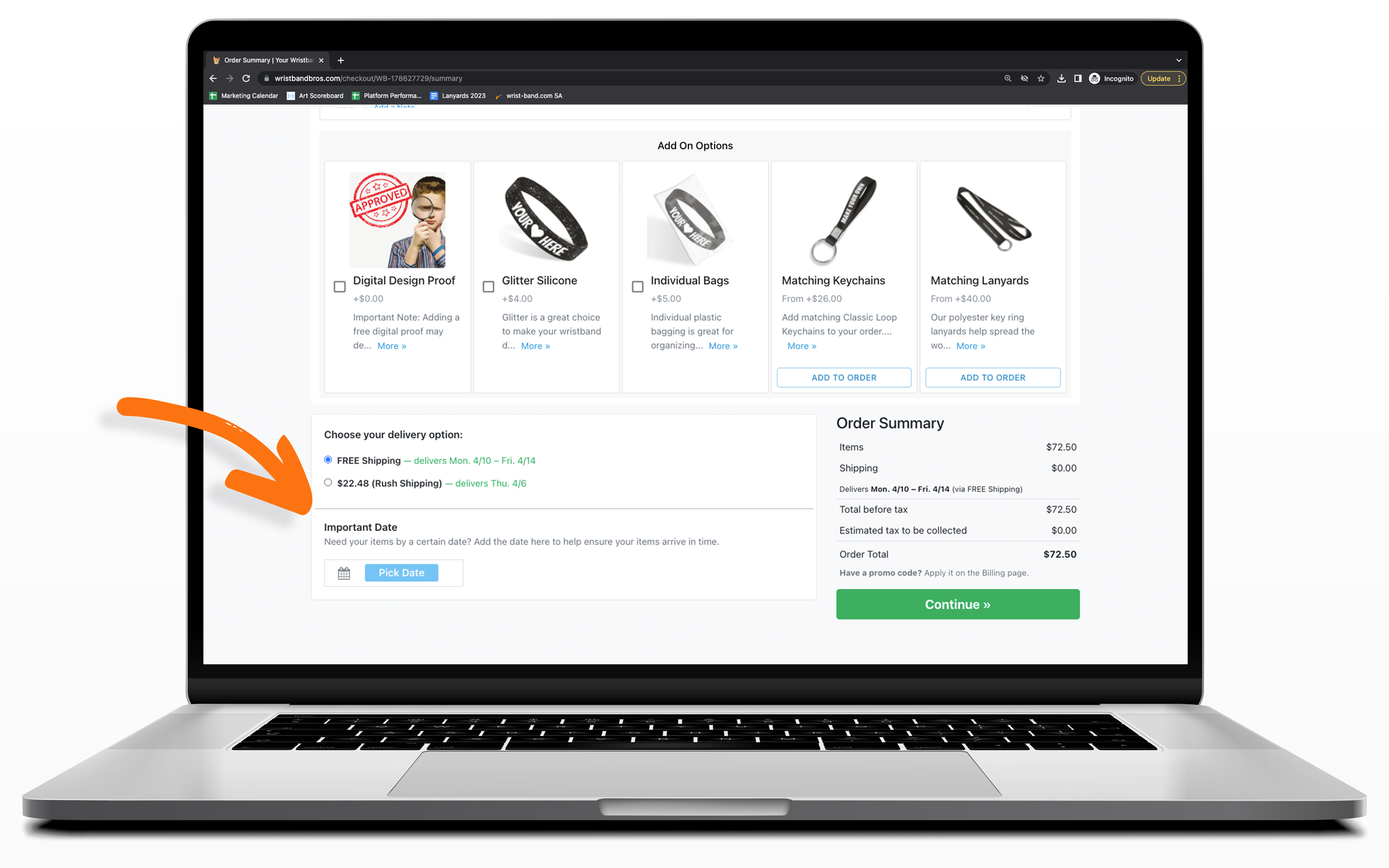 Important note: Not all delivery delays are within our control. If there is an Act of God delay, such as, but not limited to, a hurricane, tornado or blizzard, Wristband Bros can not be held responsible for the associated delay. Wristband Bros will ship all orders in the agreed upon time frame. Shipping delays due to extreme weather are rare, but can happen. An order will not be eligible for refund if delayed by the shipper due to weather or other Acts of God that make delivery impossible.
If your wristbands are not delivered in the agreed upon timeframe and you believe you're eligible for a full or partial refund, please contact us today.