Ultra Thin Wristbands, The Easy Way.
The Ultra Thin custom wristband is our most inexpensive offering. This makes it popular with fundraisers & other non-profit organizations. But that isn't the only trick in this wristband's playbook. With its slight 1/4" wide print face, this item is sleek and fashionable and is often ordered by customers looking for an understated look for their brand. This item is made from 100% silicone and available in Youth (7"), Adult (8") and Large (8.5") sizes.
Our industry best design tool lets you create the wristband design of your dreams in mere seconds. Choose from dozens of colors and fonts. Our free icon library has tens of thousands of options, meaning you'll surely find the art icon best suited for your project. And if you don't? Feel free to upload your own masterpiece.
Pro Tip: Use ALL CAPS on this wristband. That will help your message stand out on the small print space.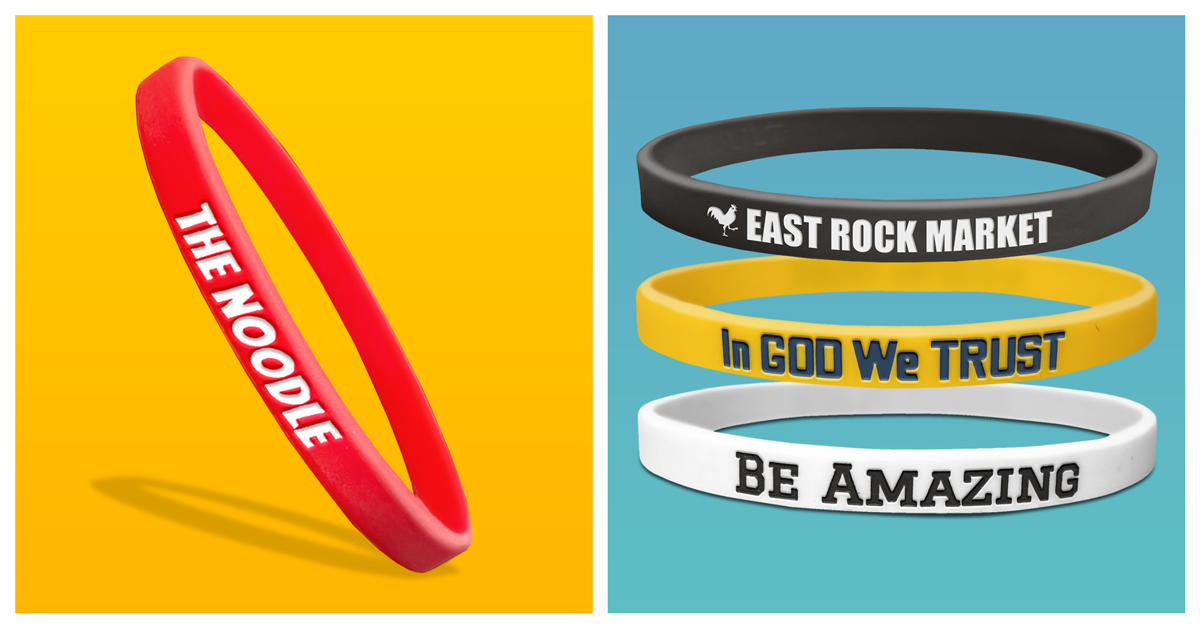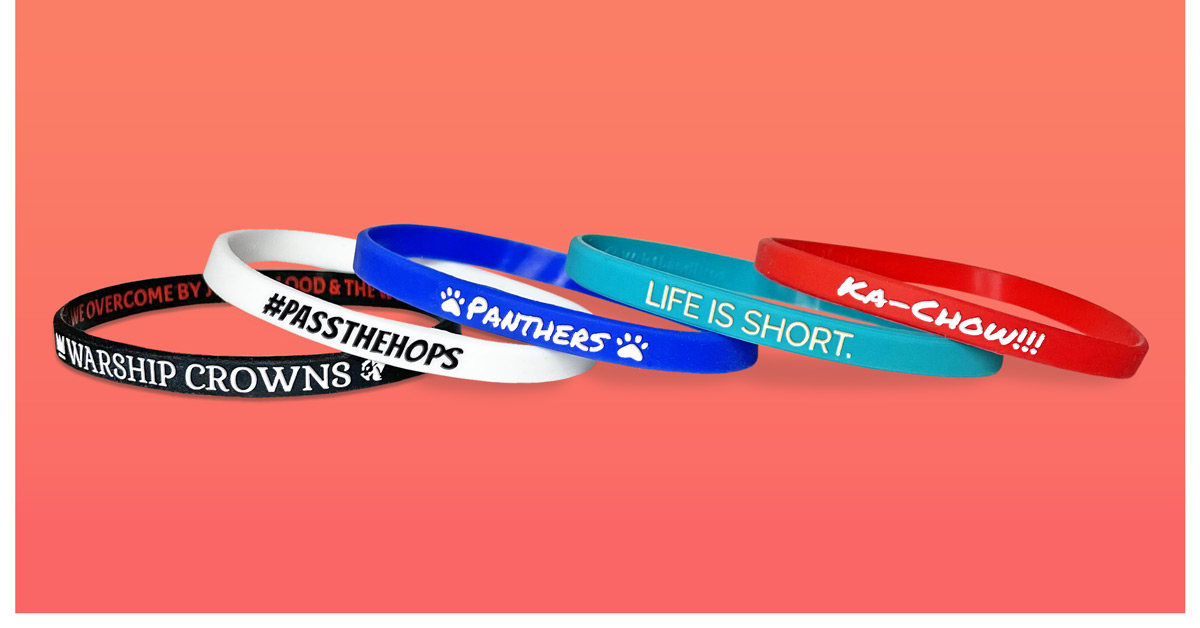 People Make Ultra Thin Wristbands For...
Fundraising. The economics of the wristband fundraiser are not hard to understand. Check this quick example: You purchase 300 wristbands at 50 cents per wristband. That brings your total cost for 300 custom made products to just $150. At that cost, you'll only need to sell a small portion to cover your expenses. If you sell the items for $3 each, you'll need to sell just 50 wristbands to recoup your expenses. If you sell the items for $5, it'll only take selling 30 wristbands (out of 300!) to get into the profit. Those economics are what make this promotional item so popular as a fundraising tool.
Promoting A Business. As small business owners ourselves, we understand the importance of marketing on the cheap. We print Wristband Bros wristbands and hand them out to customers for free. We've done the same for our keychain product. Why can we afford to do this? Because unlike expensive t-shirts or heavy coffee mugs, wristbands are inexpensive and really affordable to ship. It's the perfect low-cost promotional tool for our business. And it can do wonders for yours, too!
Building A Brand. Getting your name out there isn't easy. We've helped hundreds of clothing, social media, and lifestyle brands promote themselves without breaking the bank. One customer sells shoes online. In every single photo he posts, his hand is holding a shoe and on his wrist is a wristband with his company logo on it. That's just one example of an easy way to boost your brand with wristbands.
Raising Awareness. The number one priority of any good awareness campaign is maximizing your messaging reach. The Ultra Thin wristband is the perfect product for this. As our lowest cost wristband item, you get more wristbands for every dollar spent. This helps you get your message on more wrists without spending more money. Raising awareness for a cause has never been so inexpensive (and stylish!).
Commemorating Events & People. The custom wristband is used to recognize and remember important dates like weddings, graduations, bachelor parties and more. It's also common to memorialize the life of a person with a wristband. Being our thinnest product, this is perfect for events where you want a show of unity, but you don't want it to be over the top.
Inspiring & Motivating Others. The Ultra Thin Wristband is perfect for adding a subtle motivational message. Whether your message be INNOVATE, KEEP GOING, WWJD?, BE A TEAM PLAYER or something else, the common denominator is pure inspiration found right on your wrist.
Having Fun With Friends. Our customers create wristbands for all sorts of reasons. A popular reason for wristbands every year is Super Bowl parties. On its face, this doesn't seem like an event for wristbands. Generally Super Bowl parties are small gatherings with your core friends. But that's exactly the perfect spot for a small order of wristbands. "Duxy's Tailgate 2" or "Pray The Pats Don't Win Again" are two examples of perfect party favors for someone's big game celebration.
Additional details:
Material: 100% Silicone Rubber.

1/4" Wide Print Area.

Available in Youth (7"), Adult (8") and Large (8.5") Sizes.

Delivery in as quick as 7 days using our rush option.

Print Styles: Debossed Only, Debossed & Ink Filled (Ink Injected).

Use Our Important Date Calendar To Guarantee Delivery By Your Event.

Design Template Available Here.