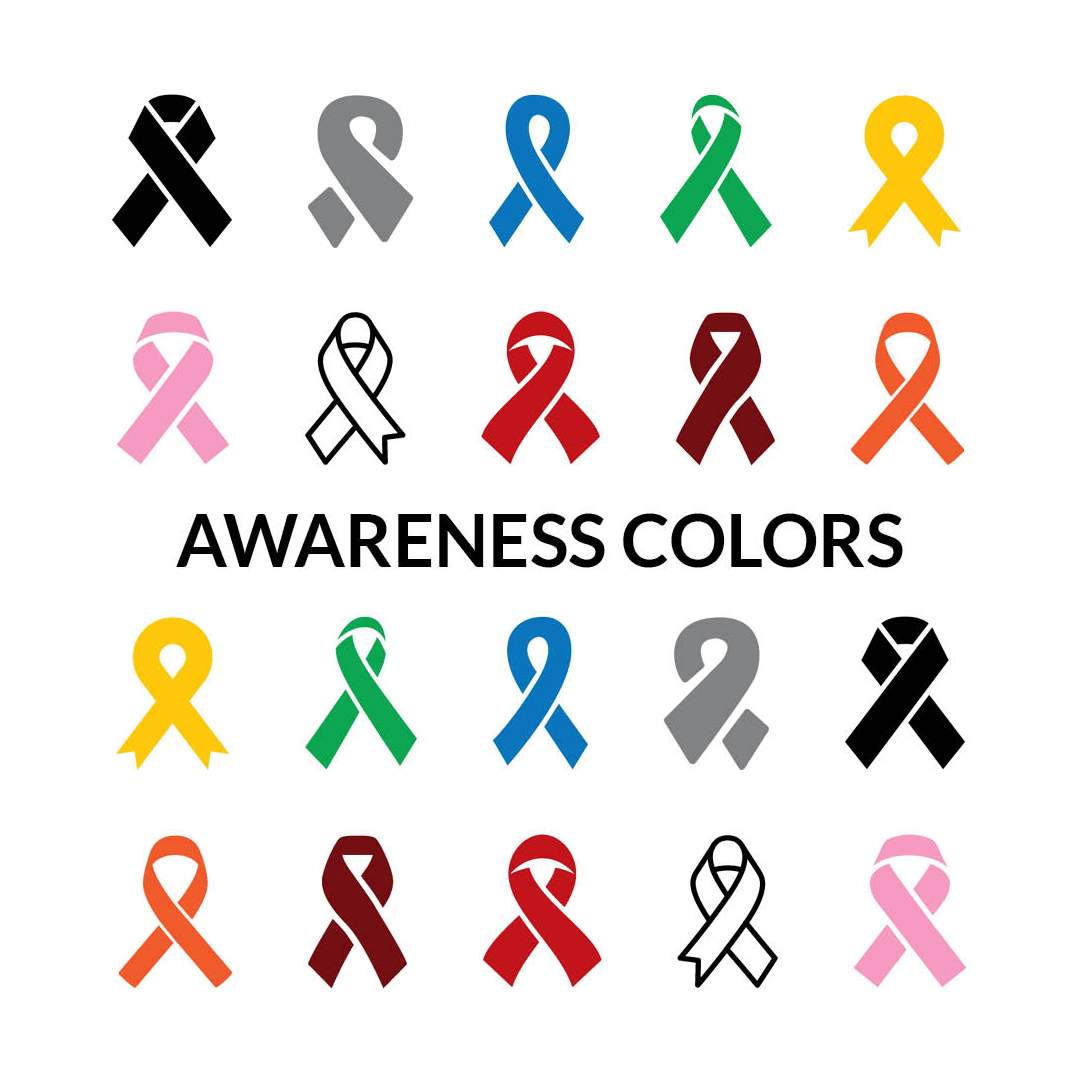 Many of our customers come to us when they need to design custom wristbands to raise awareness for a cause that is near and dear to their heart. In honor of that, we've created a guide that identifies the various awareness colors and the common diseases, conditions and causes that they represent.
The common symbol for awareness is a ribbon. As you can see above, we have a variety of ribbon designs that can be added to your custom wristbands. Just make mention in your order notes and we will gladly do so. As for colors, the ten most common colors listed below represent a huge variety of issues. (We've also made a previous post featuring just the cancer-related colors)
Pink
White
Blindness

Bone Cancer

Bone Diseases

Eye Cancer

Postpartum Depression

Right to Life
Red
AIDS and HIV

Brain Aneurysms

Burn Victims

Cardiovascular Disease

Heart Defects

Lymphoma

Stroke

Substance Abuse
Burgundy
Adults with Disabilities

Multiple Myeloma

Sickle Cell Anemia
Orange
ADHD

Agent Orange

COPD

Cultural Diversity

Kidney Cancer

Leukemia

Self-harm

Spinal Cancer
Yellow
All Cancers

Liver Disease

Missing Children

Obesity

Suicide Prevention
Green
Bipolar Disorder

Cerebral Palsy

Depression

Dwarfism

Glaucoma

Kidney Cancer

Mental Health

Mental Illness

Spinal Injuries

Stem Cell Research

Tourette's Syndrome

Traumatic Brain Injury
Blue
Addiction

Arthritis

Bullying

Colon Cancer

Erb's Palsy

Foster Care

West Nile Virus
Gray
Allergies

Asthma

Brain Tumors

Diabetes
Black
Melanoma

Mourning

Prisoners of War

Sleep Disorders
Click here for a much more comprehensive list.