What makes a great wristband? This is a question we ponder often, especially when customers ask for design input. We see thousands of wristbands pass through our doors every day. We like to think we've seen it all, designed it all, and thought of it all. Of course we haven't, but we've learned a whole lot along the way. And as the famous quote goes:
Knowledge stowed is knowledge stolen. – Confucius Me Just Now.
My Wristband Design Is A Simple Message – What Do I Do?
Recommended Styles: Classic and Ultra Thin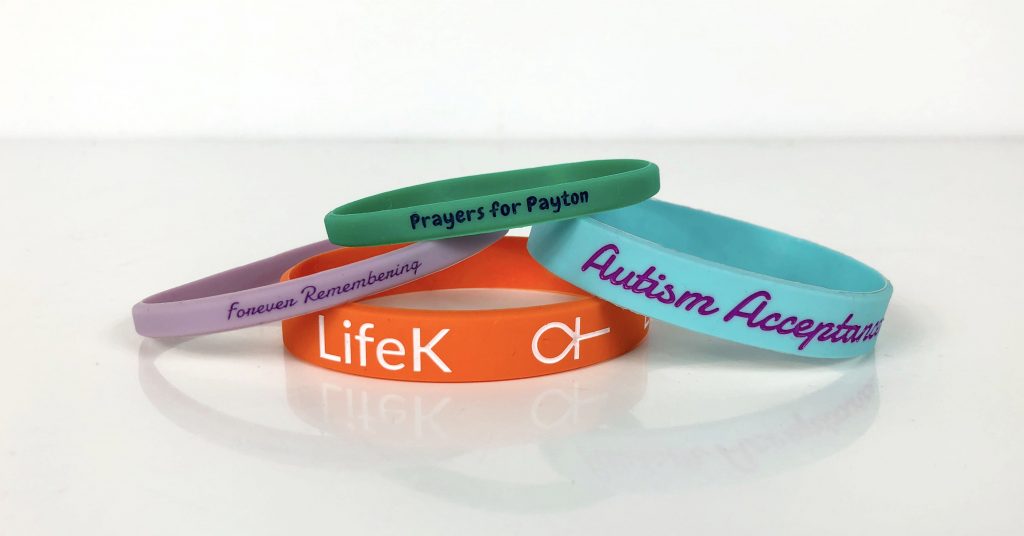 We recommend the Ultra Thin band for simple text messaging. This band has a small print canvas that doesn't work well with complicated logos with intricate detail, but excels at message bands. We suggest sticking to words only and to use ALL CAPS and bold fonts, as this will improve the clarity of your messaging on the thin print surface. (Oh – And it's our cheapest item too, so hooray for saving money!)
The Classic wristband also frames simple message bands perfectly. And unlike the Ultra Thin, it allows for expanded text size and even multiple lines of text. This style of wristband is our most popular item and is terrific for spreading your message far and wide.
My Wristband Design Is Crazy! So Much Art! So Much Logo!
Recommended Styles: Wide, Ultra Wide, Die Cut & Classic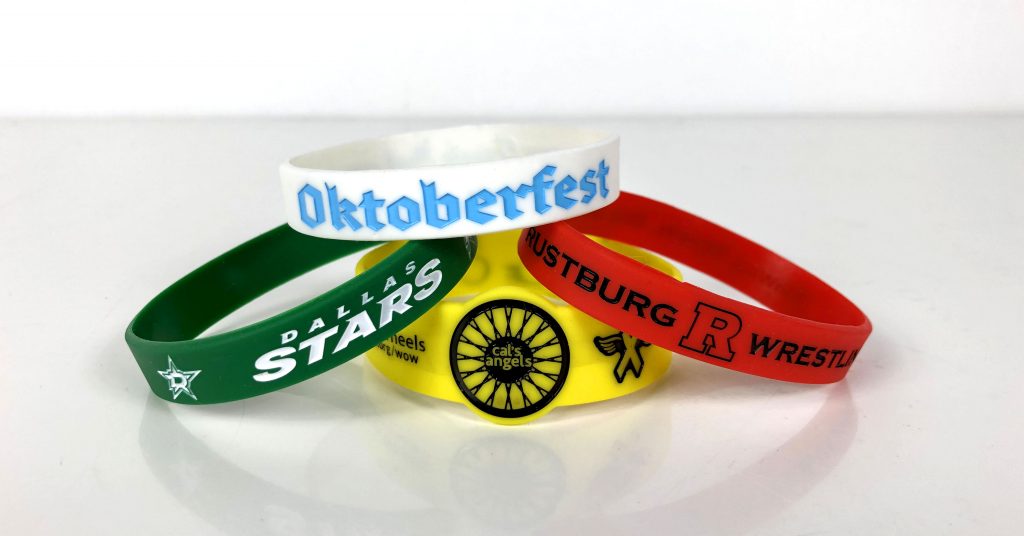 FYI: If you want to use custom artwork on your wristbands, here's a quick guide to prepping your designs for wristband printing.
When working with an intricate logo, we recommend the wider canvas of our Wide and Ultra Wide bands. The extra space will allow for small detail that might not otherwise have worked on our Classic or Ultra Thin bands. And if you're feeling really funky, add more uniqueness into your design by choosing our Die Cut Wristbands. They are custom molded to fit around your artwork and provide an excellent print space for the most gnarly of logos.
If your art is on the simple side (yay for hearts!), the Classic wristband might be the correct choice. It's our most popular style and provides a more subtle look than the wider bands while also occupying a more attractive price point.
Wait – I thought you said the Classic was best for simple message bands?
Ah, you see! But that's the beauty of the Classic. You simply can't go wrong with our most popular wristband.
Ok – So I've Chosen The Style… But What About Colors?
Pro Tip! If you don't see the exact color you want on our site, you can request special colors in your design notes. We'll send you a proof with the requested color, or the closest possible option!
We ran the numbers on our most popular color choices in 2019. The breakdown is highlighted in the infographic above. Notice something funny? When it comes to ink, its black and white! Where are all the daredevils!? Where are the colorful people!?
Are you heading down the rainbow with your wristband? Or maybe you're a black and white type yourself? Let's break down the important factors in your decision.
Start with your silicone color. This is the color most people will register first when they look to your wrist. Many base the silicone color on brand colors or specific awareness colors. Others might simply have a favorite color. Whatever your reasons, choose the color that speaks to you the most. There isn't a right or wrong color for any project.

It's important for your message or logo to stand out and be as easy to read as possible. After all, these two things are what will make people want to wear your wristband. To maximize legibility, pick ink colors that have high contrast with your silicone color. You wouldn't want to choose a black wristband with the darkest color gray because these colors don't contrast well… Unless understated messaging is your goal! In that case, low-contrast away, my friend!
We also suggest making sure your colors don't clash with each other. Some colors just don't go look good side by side! If you want to have some fun playing around with color palettes (and avoid the dreaded clash), try this tool.
Inspire Yourself. Inspire Others. Express What Matters!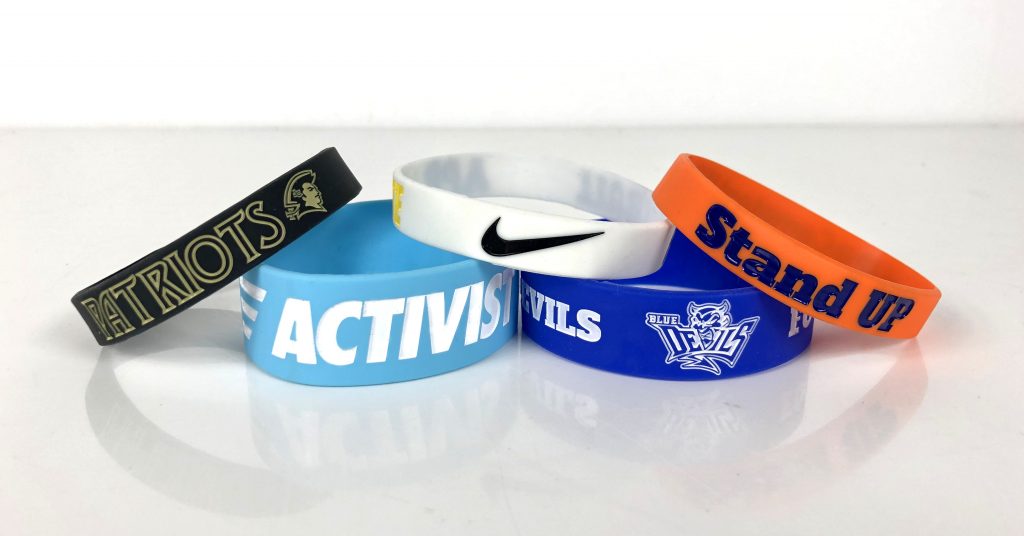 You can pick beautiful colors but a wristband is only as good as the message on it or behind it. We can't stress this enough… Whatever you print on your wristband needs to be compelling! Maybe your brand is strong and the logo alone will make people buy it. But what if you're just starting your company, awareness campaign or music group?
If your wristband is message-based, make it catchy, powerful or funny – something that elicits emotion. If art or a logo is the centerpiece of your wristband, then make good use of the space you've chosen. Think of our wristbands as a frame for your art. The frame should accentuate the picture, am I right?
Need some wristband design inspiration? Check out our Instagram! We're always posting photos of whatever great looking wristbands are in the office that day.
Ready to create your custom wristbands?
Start Designing »