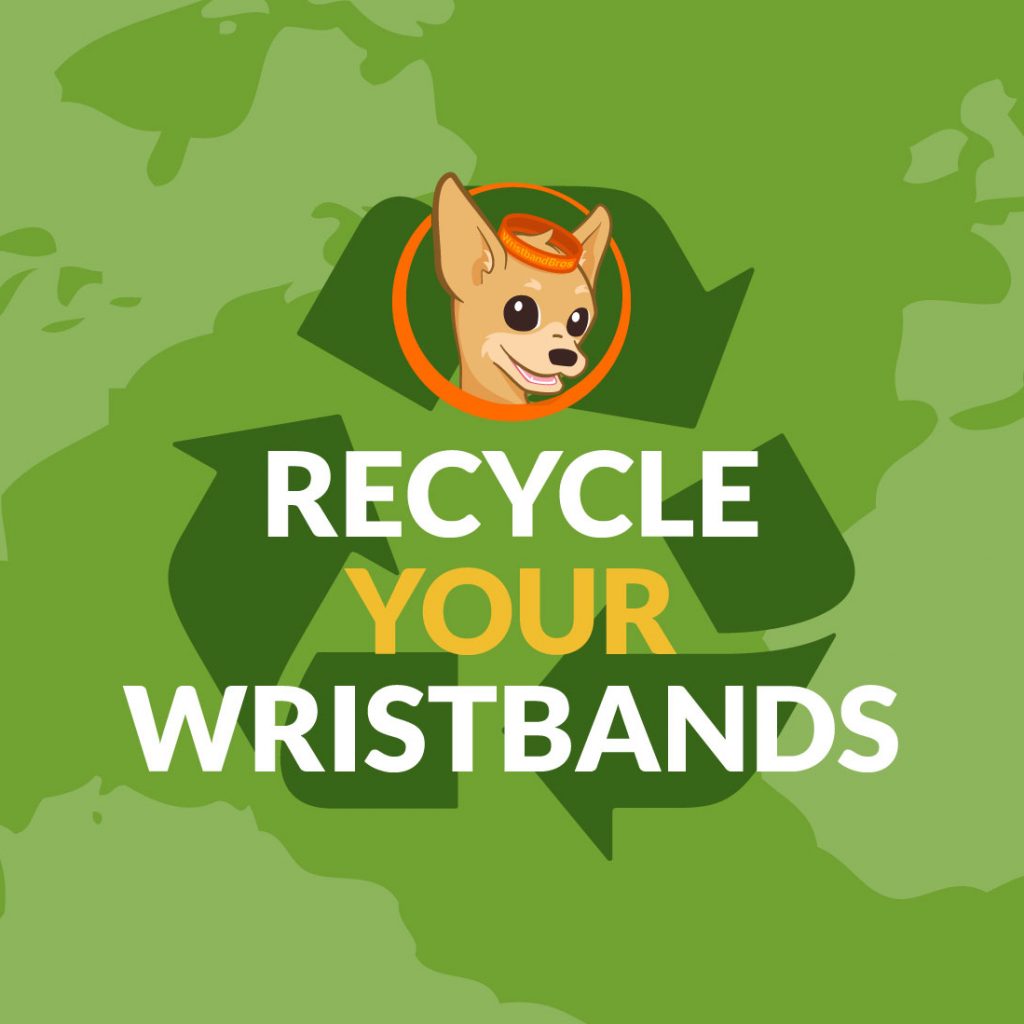 We're happy to announce our Wristband Recycling Program! Starting today, we are able to accept back unsold, unused or just plain worn out silicone wristbands. When the bands are received, we'll stock pile them, then once we've got a hefty load, we'll send the silicone bands off to a recycling facility that specializes in silicone recycling.
The wristband recycling program isn't exclusive to our customers. If you're reading this and have an old silicone wristband or three, send them our way!
Oh and did we mention the best part? One we receive your wristbands, we'll send you a code for 15% off some new ones!
The Wristband Recycling Program
To start, please remove any plastic bagging before sending in your wristbands, as plastic will disrupt the recycling process. And remember to include a note with your name, phone number and email address so that we can send you your 15% off promo code. Then ship package to:
Wristband Bros
ATTN: Recycling
190 Exchange St
Pawtucket, RI 02860
Your wristbands will be recycled by a third party partner. The end result of the process will have uses in multiple products, such as solar panels, insulation, lubricants and hydraulic fluid.
The most important thing is your wristbands won't be wasted after you're done with them!
Shipment Recommendations
As a general rule of thumb, if you are shipping enough wristbands to require a box, UPS Ground ought to be your cheapest option.
If shipping less than a box (standard mailer types), USPS.com is a great bet. If the shipment is under 1 lb, you qualify to use their First Class mail.
Please remember – The above recommendations are general guidelines only. It may be cheaper from your particular shipping location to use a different carrier or shipment method.
Tell us more, friend!
Silicone is a synthetic compound commonly made into rubber, oil or caulk. Because of its composition, it requires a special recycling process and can't be tossed in the normal household bin. There are a handful of facilities that will accept it for processing, but the minimum quantity requirements are too high for most individuals.
We believe we have a duty to offer a way for people to recycle the products we make. Our program provides you with an alternative to throwing your used wristbands in the trash. Simply ship them to us and we'll do the rest.
And remember – You don't need to send us just 1 or 2 used bands. Some of our customers order 10,000 bands at a time (you know who you are!). We'll accept any amount of used or unused product for recycling.
Once you've shipped out the old wristbands, it's time to customize some new ones!
Start Designing »