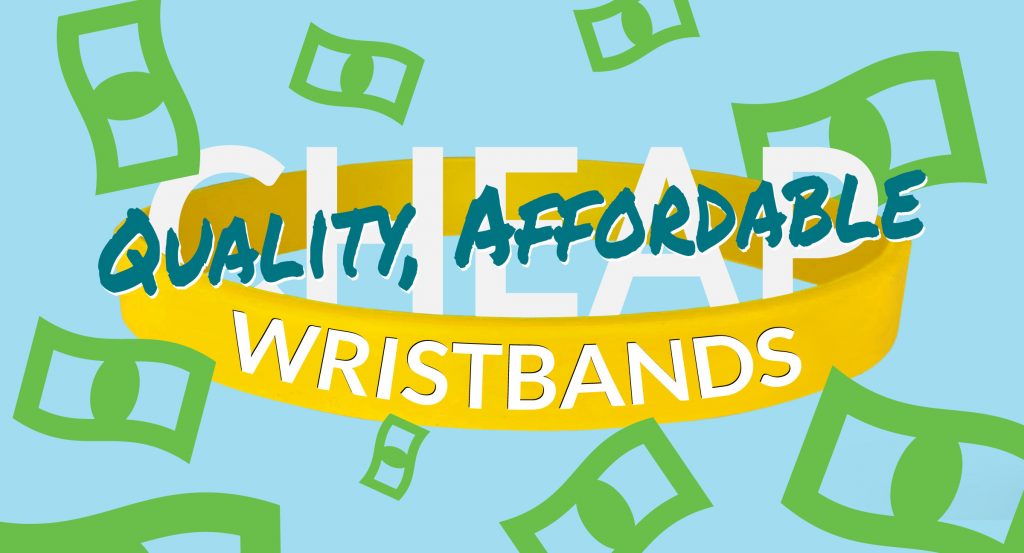 If you're looking for cheap wristbands that are built to stand the test of time, look no further. We make high quality custom wristbands at affordable prices that won't hurt your wallet. Allow us to show you how to get the best bang for your buck.
Affordable Custom Wristbands
Silicone wristbands are one of the most economical choices when it comes to affordable custom wearable products. Compared to t-shirts, hats, and lanyards, custom wristbands are available in larger quantities for a fraction of the price.
You can order 50 custom wristbands for as little as $50 total, and that includes free shipping. If you wanted to order that quantity of lanyards, the price would be closer to $75, and hats or t shirts will run you over $200.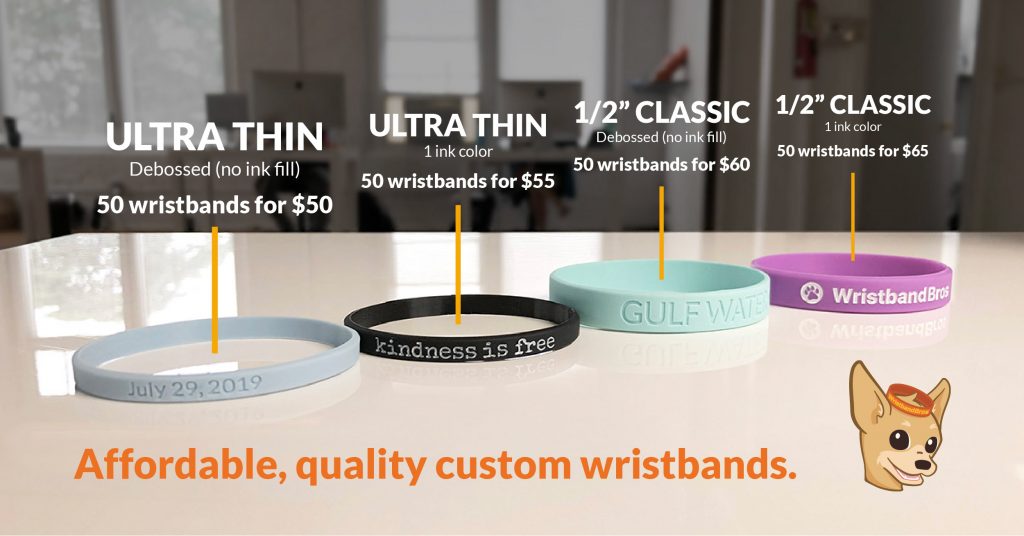 Make your wristbands even cheaper.
Our pricing is based off of the number of ink colors in your design, the quantity of wristbands you are ordering, and how fast we have to produce them. That's right, we don't upcharge for adding your logo or custom art, nor do we charge for custom fonts OR the number of different wristband colors you can order.
For Example: You may order 50 wristbands, consisting of 5 different ink and silicone color combos, and as long as there is 1 ink color per band, the price will remain the same.
So in order to keep your cost per wristband as low as possible and to achieve the dream of darn cheap wristbands, just do the 3 following things:
Minimize the ink colors in your design. Debossed-only (no-ink fill) is the cheapest option.
Give yourself plenty of time. Free shipping requires a 14 day turnaround time from our factory to your front door.
Order in bulk. The more you order, the cheaper each wristband will be. Our minimum order for most wristbands is 50, except for the 1/2″ Classic wristbands, those you can order as low as 5 bands for $25.
Ready to make some affordable custom wristbands? Choose one of the options below and get started designing:
Ultra Thin Wristbands: Design 50 for $50
Classic 1/2″ Wristband: Design 50 for $60